"Teachers rave about the hundreds of important lessons learned upon the rug. It is a magic carpet in more ways than you can imagine."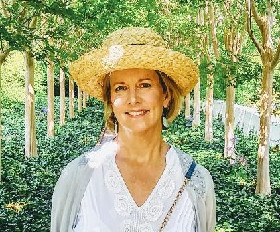 What inspired you to create the rug? Before becoming a Montessori teacher, I worked as an interior designer and actress in Chicago. I was drawn to the beauty of a Montessori classroom when my children were of age. I worked as an aid in my kids classrooms for years until I decided to get my 3 to 6 directress certification through Meca Seton. The Chicago schools are filled with children from all over the world, and cultural presentations were some of my favorite activities. Music, dance and art are what bind us as humans because all three break barriers of class and race, and bring people to knowledge that beneath it all we are the same, we are ONE. So when I opened my own school in Wisconsin, my vision included all things beautiful. The Summer of 2006, was A TRIP AROUND the WORLD. 7 weeks, 7 continents. During one of our art afternoons, we made paper dolls of children from around the world. I placed them on the floor holding hands (much to the children's delight) and it was clear, "We must make a rug from this design!" Being in the design world before, I knew just where to go. I chose JOY Carpets in Georgia because they are the number one educational rug manufacturer in the US and their rugs are exceptionally durable and stain-resistant. 3 months later, a rug rolled off the press. 4 months later, MARIA'S GARDEN was born, then MONTESSORI ABC's.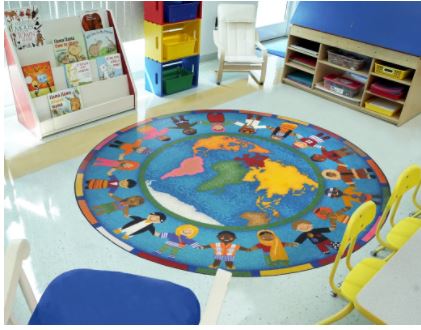 How did you go from idea to manufacturing? I had to create camera-ready artwork that could be printed on the carpet. During a vacation to Door County, I spent a weekend with my kids creating more dolls. Pauly the Penguin is my son Paul. The Swedish girl with the red cross is my daughter Claire, the bikini girl from Brazil is my daughter Kathryn. Paul was 15 at the time and he created a lot of Army guys and dinosaurs, which made for a hilarious rug. The artwork was photographed along with the map and sent to Georgia. JOY Carpet shares a dot matrix printer the size of a football field with other carpet manufacturers. Carpet rolls are 12 feet wide and 60 feet long. It is just like printing paper on your machine at home. When the dye solution is dry, the shapes are cut in a warehouse and then binding is sewn to the edges.
How many rugs have been sold in the US? Worldwide? The rug was the number 1 best seller in the US in 2008. Since then, it has been sold through Kaplan Learning and Brio in Europe. Unfortunately, the rug was stolen at a NYC Montessori conference by a group in China, and a similar rug is being sold in Asia. Joy has shipped over 500,000 rugs in the past 12 years.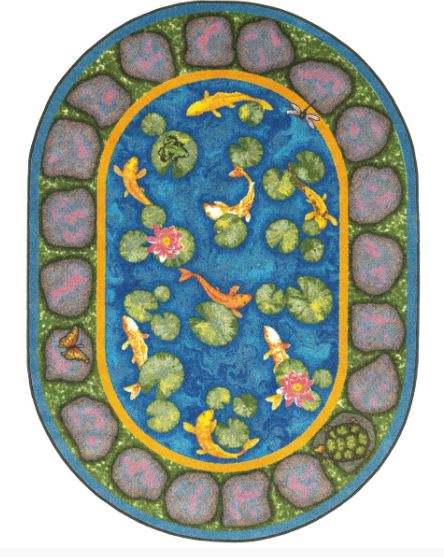 What feedback have you received over the years about the rug?  It is joyously received by the children who create a community around it. The children name their "friends" and talk to them in the morning. It is like family in some respects, and teachers rave about the hundreds of important lessons learned upon the rug. It is a magic carpet in more ways than you can imagine. I am currently writing a Hands Around the World teacher's manual and story books for each child on the rug. Anyone with a unique lesson, photos or story to contribute can email me at MontessoriCarpets@gmail.com, and will be mentioned in the manual.
What other projects are you working on these days? I was teaching in California as the COVID hit last spring. I decided to take a break and build out a school bus as my home and travel around the country. I am a painter and poet and am so inspired by nature and the peace and quiet it offers. I also love to stop into classrooms and visit my rug and share my stories with the children. It is my belief that we are all born artists. It is comparison that scares that creative spirit away…temporarily. It is our life purpose to rediscover the original joy of creating, that was inherent as a child.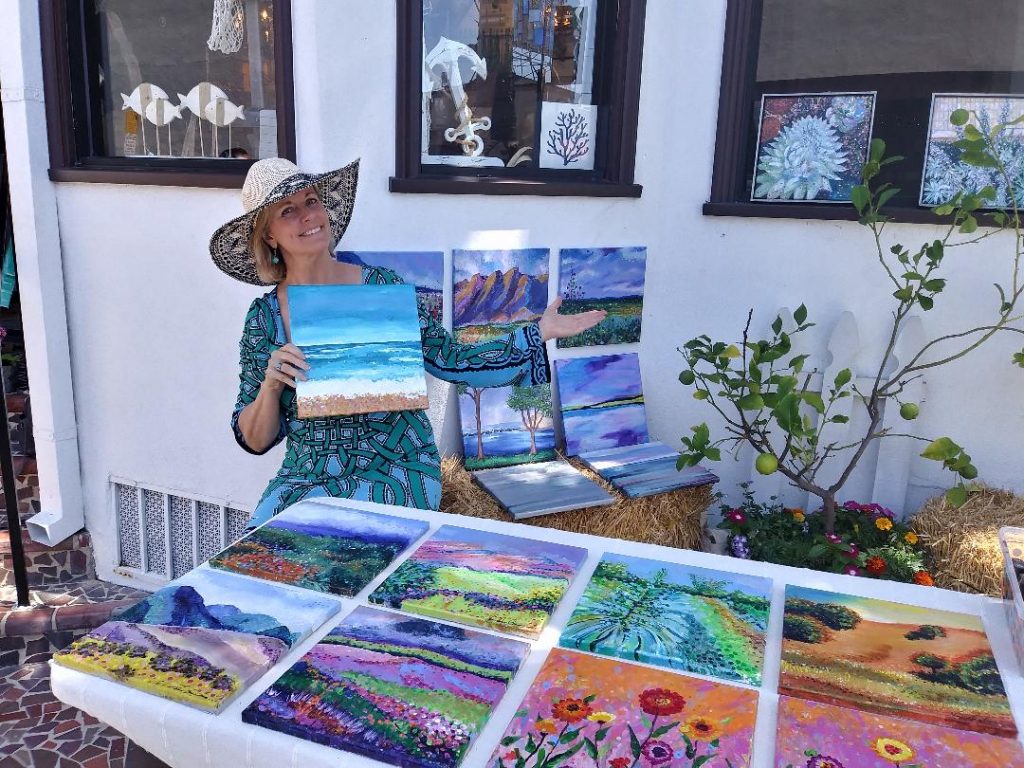 How can people contact you? You can follow my journey on Instagram @thispoetsjourney and @PoetAnSperry. I am available for speaking engagements, school visits, and art/poetry workshops by messaging me there. Carpets will soon be found at montessoricarpets.com All rugs are available in three shapes and three sizes.
My other works include Floating Feathers: a Mother's Poemic Journey, The COVID Chronicles: A Hermosa Beach Memoir, Sunrise Honeymoons: Lake Geneva Love Poems, and Autumn Reflections: a Tim's Ford Memoir.