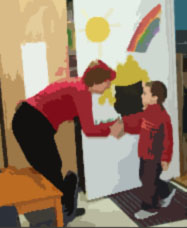 "When he is at the school we adults have chosen for him, he is given a medal and we say, 'What a clever teacher he has.'

"But it is the small child who is really a living miracle! This is what the teacher should see in the child: a pupil who has learnt in such a fashion that the teacher herself could not learn better…This is a deep and mysterious fact."

— Dr. Maria Montessori
The Absorbant Mind, pages 102-103
(A Montessori quick bite from The Center for Guided Montessori Studies)
In the northern hemisphere this is the period when we return to school. Some children will be entering new classes. Many of these will be worrying, "Will I have a good teacher? Will she or he be kind?" Parents are worrying too, though perhaps more about whether this new teacher will be effective.
At CGMS, we would like to take this occasion to remember that these two concerns are not unrelated. The innate genius of children is an astounding and invigorating fact to consider. In a well prepared environment free from an ineffective authoritarian and "poisonous pedagogy", children will flourish. Their natural curiosity, supported by a caring and well trained Montessori teacher will lead them to ever greater exploration and mastery in every curriculum area.
As we've quoted Dr. Montessori before, education "develops spontaneously in the human being." But most of us have known unkind teachers. Children with even the brightest spirits may take years to rekindle the flame of interest which was snuffed out by verbal abuse or emotional bullying. Conversely, as Dr. Montessori herself showed, the proper classroom environment can encourage a brilliant bloom in even a desert of deprivation.
This is one of the reasons that we believe that you, Montessori educators and parents, are one of the best hopes for our world.
We wish you all a great school year!
CGMS staff
---

CGMS offers both teacher training and continuing education for professionals. Our next professional development sessions begin on the 4th of October. One recent student said:
I was truly challenged by the Math Refresher course. It was well worth my time, effort and cost!
— Deborah Resnick
For more information about our classes for teachers and classroom assistants, please visit our website at http://www.guidedstudies.com/cgms/prof_dev/
Our next Primary and Elementary teacher cohort groups both begin soon. If you are interested in becoming a certified Montessori teacher, now is the time to enroll! Whether you choose our online-only Associate Certificate, or our low-residency Full Certificate program, you will get the same thorough and well-respected training from some of the world's leading Montessori educators. The CGMS training program has been carefully designed to combine the best practices of over a century of Montessori training with the most up-to-date e-learning techniques. The result is an authentic program unlike any other.
I feel confident that I have learned a lot… It has been an adjustment for me to go back to school, let alone go back to school ONLINE! I never thought I would do anything like this. It is fun though, and very convenient. I LOVE the flexibility!
— Current Student
To learn more about our teacher certification programs, please email us or visit our website at http://www.guidedstudies.com/montessori-certification-online.html.